Sunburn Treatment Q&A
At Express Health Urgent Care, our team of licensed and experienced medical providers can help you address mild, moderate, and severe sunburns. For more information about our sunburn treatments, or to ask any questions you may have,

contact us today

. Or, when ready, you can also walk in for a same-day assessment or book in online to schedule an appointment. We have convenient locations in 

East Harlem NYC

,

Metropolitan NYC

and 

Staten Island NYC

.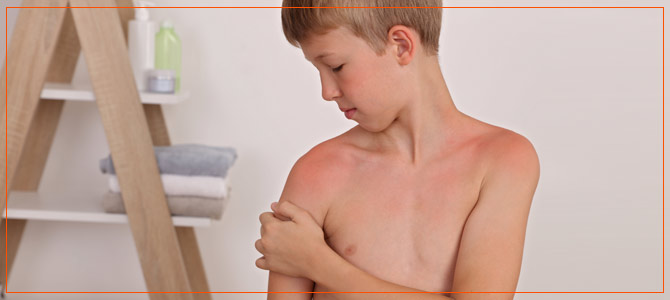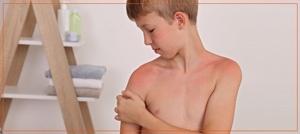 Table of Contents:
How do you heal a sunburn fast?
How serious is a sunburn?
How long do sunburns last?
Can a sunburn turn into a tan?
We've all been there: laying out in the sun too long during the summer, not wearing enough sunscreen, and our skin turns a little (or a lot!) pink. This inflammation of the skin that we experience when we've been in the sun for too long is known as sunburn. And while most cases of sunburn will resolve with time, self-care, and home remedies, serious sunburns may require you to go in to see a doctor.
How do you heal a sunburn fast?

Unfortunately, there's a limit to how fast your body will be able to heal and replace the damaged skin cells caused by sunburn. Mild sunburns typically only take 3-5 days to heal, while more severe sunburns can take weeks – and sometimes, in rare cases, even months.
 
However, there are some clinically proven ways to maximize the body's healing process when it comes to sunburn. This includes:
 
● Getting an adequate amount of high-quality sleep. 
● Staying hydrated.
● Moisturizing your skin with a gentle, skin-safe cream.
● Take a nonsteroidal anti-inflammatory drug, such as ibuprofen.
● Avoiding tobacco use.
● Avoid additional sun exposure.
● Apply aloe vera to the sunburnt area.
● Taking a cool bath and then applying moisturizer.
● Applying hydrocortisone cream.
● Applying a cold compress to the affected area.
● Soaking in an oatmeal bath.
 
These strategies can be used in isolation but are often more effective when used in combination with each other.
 
If you have a sunburn that is still painful after a week or is getting more uncomfortable as time goes on, book in with your doctor at your earliest convenience as you may be a more intense form of medical care. 
How serious is a sunburn?

The majority of sunburns that occur are first-degree burns, which are characterized as being very superficial and quick to clear up after 3-5 days of rest and home care.
 
Second-degree or third-degree burns are not as common but they are much more serious. A second-degree sunburn penetrates the second layer of the skin, known as the epidermis, which often results in redness and blistering. Third-degree sunburns, which are the most serious, reach the layer of fat below the skin and can destroy the nerves. This can result in lasting skin and nerve damage.
 
Second- and third-degree sunburns require medical attention to be treated effectively. If you're not sure what type of sunburn you have, it's always best to air on the side of caution and book in with your primary care physician. You may also be able to consult with your doctor over the phone to determine whether an in-person visit is necessary. 
How long do sunburns last?

Depending on the severity of your sunburn, it can last anywhere from 3 days to several months.
 
Most first-degree sunburns clear up with rest and at-home care within 3-5 days. However, second-and third-degree sunburns cause damage at a deeper level, meaning that they'll likely require professional care and a longer amount of time to heal.
Can a sunburn turn into a tan?

When your skin is damaged by the sun, the body produces more of a pigment known as melanin. This compound is produced as a biological defense to shield your body from receiving any further damage. It can also potentially darken the skin, which is why some people find that they have a tan after their sunburn heals. 
 
While a sunburn can turn into a tan, it's important to avoid harming your skin this way whenever possible as every burn increases your chance of developing non-melanoma skin cancer. Sunburns can also lead to hyperpigmentation and premature aging, both of which are extremely difficult to reverse.
 
If you have a severe sunburn or a sunburn that isn't healing, connect with us at Express Health Urgent Care. We would be happy to assess your condition and provide you with the optimal treatment plan to get your health back on track. Contact us today for more information about our sunburn treatment services or book with us online to schedule an appointment at your earliest convenience. We serve patients from Brooklyn NYC, Queens NY, East Harlem NYC, Manhattan NY, Coney Island NYC, Midwood NY, Nostrand NYC, Ridgewood NY, Metropolitan NYC, Staten Island, Greenwich Village NY, and surrounding areas.