Chronic Disease Management Specialist Q&A
Chronic disease management is the process of ongoing monitoring and evaluation of chronic conditions with the goal of improving health of the patients. Our specialists at Express Health Urgent Care provide assistance for your chronic disease management. To consult with our professionals,

contact us

or visit us today to

book an appointment

. We have convenient locations in East Harlem,

Metropolitan NYC

and

Staten Island NYC

.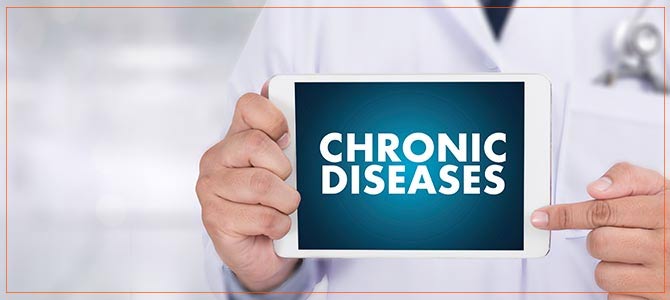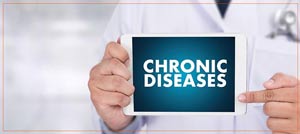 Table of Contents:
What are the principles of chronic disease management?
What are the common chronic diseases?
How can I control and manage chronic diseases?
Who is more vulnerable to chronic disease?
Chronic disease is a condition that lasts for longer than six months, sometimes indefinitely, with no known cure. In many cases, these types of diseases are lifelong conditions that require ongoing medical management. Chronic disease management helps to manage symptoms, and prevent health complications by using proactive strategies and working closely with patients and families.
What are the principles of chronic disease management?

Chronic disease management involves the treatment, monitoring, and support for people living with chronic health conditions, such as diabetes or high blood pressure. It provides patients with the medical care, information, skills, and resources they need to manage their disease effectively on a day-to-day basis and take proactive steps to mitigate symptoms and improve their quality of life.

Chronic diseases are classified as long-term ailments that typically progress slowly, yet continue to develop and worsen if left unchecked. The principles of chronic disease management include:

• Acknowledging the Patient's Experience — Chronic disease management should address the patient's needs, concerns, and emotions, providing them the chance to communicate their concerns and struggles with their chronic disease. The primary care doctor formally accepts the validity of the patient's experiences by acknowledging subjective perceptions and symptoms of the disease. The acknowledgment helps patients to adapt to their disease and also improves the patient-physician relationship.

• Acknowledging the Patient's Knowledge of Their Life — All contacts with health professionals should focus on the patient's strengths and difficulties in managing their illnesses as successful chronic disease management is dependent on the patient's actions.

• Establishing a Long-Term Relationship — For chronic disease management to be effective, a long-term relationship between patients and healthcare providers is required. The partnership is both a connection and a process that encourages the patient to take charge of their condition, empowering them to take control of their life. As a result, patients may become active participants in their care, sharing decision-making and treatment duties, assisting in clarifying symptoms and diagnoses, deciding on a treatment plan, and discussing treatment results and alternatives.

• Providing a Genuine Sense of Hope — This principle focuses on optimism and support in the face of uncertainty or the unavoidable exacerbation of chronic diseases; this is vital as many people feel helpless about their chronic condition and its progression. Patients are able to better cope with uncertainty and improve their well-being and adaptability when optimism is balanced with realism. Express Health does not ignore the unpleasant parts of the condition or promote naive beliefs but instead emphasizes the good, less negative, and potential changes that could potentially lead to a better quality of life.
What are the common chronic diseases? 

Common chronic diseases include:

• Diabetes
• Kidney disease
• Heart disease
• Asthma
• Hypertension
How can I control and manage chronic diseases?

The way chronic diseases are managed can vary depending on the type of disease, its severity, and its chronicity (how long it has been present). However, there are certain lifestyle changes that can improve virtually any medical condition, from cardiovascular disease to diabetes. The two most reliable ways to control and manage chronic diseases are the same methods used to improve health overall: regular exercise and a well-balanced diet.

Several chronic diseases are linked to unhealthy choices, such as living a sedentary lifestyle and consuming highly processed foods. When diet is improved and physical activity occurs daily, chronic diseases have been known to improve, and in some cases disappear altogether. However, there is more to managing chronic disease than lifestyle changes; a chronic disease management specialist or several walk-in services can develop a personalized treatment plan that provides a more complete picture of how to improve quality of life and reduce the risk of complications.
Who is more vulnerable to chronic disease?

Approximately half of all Americans will be affected by a chronic disease at some point in their lives; for many people, multiple chronic conditions are present, which can lead to even more complications. A person's likelihood of developing a chronic disease is highly correlated with certain lifestyle choices, family medical history, and lack of physical activity. These include:

• Tobacco use
• The harmful use of alcohol
• Raised blood pressure (or hypertension)
• Physical inactivity
• Raised cholesterol
• Overweight/obesity
• Unhealthy diet
• Raised blood glucose

If you have a chronic disease, the medical professionals at Express Health Urgent Care can help you better manage your condition and improve your quality of life. Call us today to book an appointment for chronic disease management, you can also visit us at our urgent care clinic. We look forward to serving you! To speak with one of our specialists, call us or visit us today to book an appointment. We have convenient locations to serve you. We serve patients from Brooklyn NYC, Queens NY, East Harlem NYC, Manhattan NY, Coney Island NYC, Midwood NY, Nostrand NYC, Ridgewood NY, Metropolitan NYC, Staten Island, Greenwich Village NY, and surrounding areas.