Shingles Treatment Q&A
Shingles is an infection that mainly affects one side of your face, torso or any part of your body and it causes red rashes with small blisters. Some other symptoms include pain, burning, and tingling. If you experience shingles, talk to your doctor and get yourself treated. For more information,

contact us

or book an

appointment online

. We have convenient locations in 

East Harlem NYC

,

Metropolitan NYC

and 

Staten Island NYC

.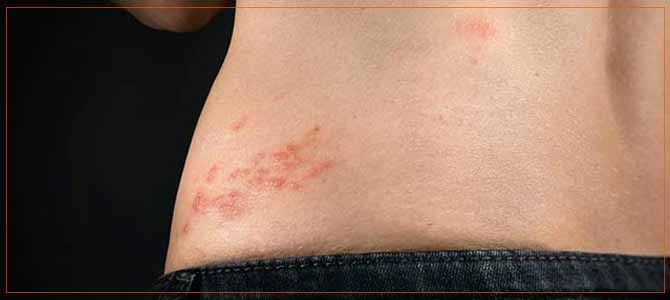 Table of Contents:
What causes you to get shingles?
What are the symptoms of shingles?
How serious are shingles?
Are shingles contagious and how?
Shingles are an incredibly uncomfortable infection that leads to an itchy or painful rash that leads to fluid-filled blisters and endures for anywhere from 2 to 4 weeks. It is a fairly common infection that affects one in three Americans older than 50 years of age or with weakened immune systems. It is highly recommended to familiarize yourself and your older loved ones with the symptoms and early indicators to ensure that you are able to receive treatment as early into the episode as possible to help alleviate the worst of the symptoms and reduce the risk of developing permanent nerve damage caused by the rash and blistering. Only those who have previously had chickenpox or the vaccination against chickenpox can develop shingles, but that also makes you much less likely to contract the virus from someone else suffering from the infection.
What causes you to get shingles?

Shingles and chickenpox are caused by the same virus, which is called varicella-zoster virus (VZV). Anyone who catches chickenpox (most commonly spread through children) will have the virus stay dormant in their body, for even years after the chickenpox recovery. If the virus reactivates down the road, it causes shingles, but this only typically happens once throughout the patient's lifetime. It is much more common in those who are aged 50 or older or have a weakened immune system. There is no specific cause known yet for what reactivates the virus, but it can be directly tied to having a weakened immune system. The best way to avoid developing shingles is to ensure that you are vaccinated against the virus.
What are the symptoms of shingles?

The first indicator that you may have shingles is experiencing some itching, pain, or tingling on one side of the body or face. That skin may feel sensitive or tender to the touch. Within a few days, a red rash will develop in the area that has been symptomatic. After around 7 to 10 days of rash, the skin will often start to develop blisters that will fill with the fluid, burst, and then become a scab. The skin will remain very itchy throughout all of this until the rash is completely cleared-up, typically after 2 to 4 weeks. Throughout the infection, it is very common for adults to also suffer from a fever, chills, headaches, or upset stomachs.
How serious are shingles?

The viral infection shingles are not often very serious, but the symptoms can be incredibly uncomfortable so it is recommended that you visit your healthcare provider as soon as you start to recognize any of the symptoms. While there is no cure for shingles, a physician will be able to reduce the severity of symptoms you end up developing with antiviral medications. These medications can help to encourage the blistering to resolve quicker, limit the extent of pain that you might experience, and reduce the risk of developing any complications. For treatments to work though, it is imperative that the infection is caught early. Unless the case is unusually severe, the symptoms can be treated at home. Many people will also turn to home remedies to alleviate their symptoms as well, either in place of anti-viral medications or to work alongside the prescribed medications. Once you have fully recovered from the infection, it is not very likely that you will develop shingles again. Rarely, some people can end up with permanent nerve damage caused by the shingles episode, also known as postherpetic neuralgia, causing them to experience some lingering pain.
Are shingles contagious and how?

Shingles itself is not contagious and will not spread from person to person, but the virus that causes the infection (varicella-zoster virus) could potentially be spread to another person during the active rash and blistering phase if that person has never had chickenpox or been vaccinated against the virus previously.

Most people have either had chickenpox at some point or have been vaccinated against the virus (typically sometime during their childhood). However, if you have no immunity against the virus and you interact with someone who has active blistering and a rash from shingles, the virus can be transmitted to you, causing you to get chickenpox, rather than shingles. Once you have had chickenpox; you may develop shingles at some point in the future. For more information, contact us or book an appointment online. We serve patients from Brooklyn NYC, Queens NY, East Harlem NYC, Manhattan NY, Coney Island NYC, Midwood NY, Nostrand NYC, Ridgewood NY, Metropolitan NYC, Staten Island, Greenwich Village NY, and surrounding areas.