When to Get Stitches at Urgent Care?
Choosing urgent care for wound stitching offers numerous benefits, such as shorter wait times compared to emergency rooms and cost-effective healthcare options. At Express Health Urgent Care, our specialists offer wound care services for patients. For more information, contact us today or book an appointment online. We have convenient locations in East Harlem NYC, Metropolitan NYC, and Staten Island NYC.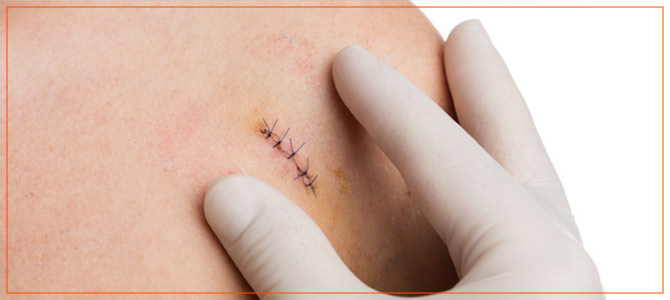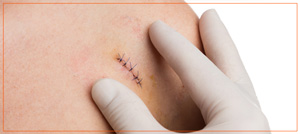 Table of Contents:
Can urgent care stitch a wound?
What happens if you don't get stitches for a deep cut?
How long does it take before I can get stitches removed?
Should I go to urgent care or ER for stitches?
Can urgent care stitch a wound?

Urgent care centers are well-equipped to handle various types of injuries, such as wounds that require stitching. Our skilled medical professionals can provide prompt and efficient stitching services. In addition, our team has the expertise to assess the wound's severity and determine the most appropriate method of closure to promote proper healing and minimize scarring. In addition, our urgent care centers have extended hours and welcome walk-ins. This provides you with convenient access to prompt medical attention when you need it most. Whether it's a minor cut or a more significant wound, you can trust our healthcare professionals to deliver high-quality stitching services. We will ensure your injury is treated promptly and comprehensively, so you can get back to your daily activities with peace of mind.
What happens if you don't get stitches for a deep cut?

If a deep cut is left untreated, it can lead to various complications that could jeopardize your health. Stitches are crucial for promoting proper wound healing and preventing potential issues, such as:
 
● Delayed healing – Deep cuts that are not stitched will take longer to heal, resulting in extended discomfort and inconvenience.
● Infection – An open wound is susceptible to bacterial contamination, increasing your risk of infection. Untreated infections can spread to cause very serious health problems.
● Scarring – Properly stitched wounds have a higher chance of healing with minimal scarring. Without stitches, the wound edges often do not align correctly. This can lead to more visible and undesirable scars.
● Excessive bleeding – Deep cuts may continue to bleed if not closed properly, leading to blood loss and potential complications.
● Nerve and tissue damage – Untreated deep cuts can damage underlying nerves and tissues and subsequently cause long-term discomfort and other complications.
 
Seeking medical attention promptly to receive treatment for a deep cut is highly advised to promote optimal wound healing, reduce infection risk, and minimize scarring. By addressing your injury with professional medical care, you can rest assured that your health is in capable hands. Our skilled team will take the necessary steps to promote a successful and timely recovery.
How long does it take before I can get stitches removed?

Generally, stitches are removed within 7 to 14 days after initial placement. During this period, your body initiates the healing process and the wound edges start to heal together. The healthcare provider who placed the stitches will evaluate the wound's healing progress during a follow-up appointment and determine the optimal time for removal.
 
Stitch removal is a quick and straightforward procedure that's often described as painless. Once the wound has healed sufficiently, the stitches are gently taken out to allow the wound to continue closing naturally. Removing stitches at the recommended time promotes a better cosmetic outcome and reduces the risk of scarring. Your healthcare provider will outline specific instructions on wound care and any additional precautions needed during the healing period.
Should I go to urgent care or ER for stitches?

When you need stitches for a minor injury, urgent care is usually the preferred choice over the ER. Urgent care centers handle a wide range of non-life-threatening injuries, including cuts, and lacerations included. Visiting an urgent care facility for stitches offers several advantages. Unless your wound is very severe and potentially life-threatening, opting for urgent care rather than the ER is advised. First off, urgent care centers typically have shorter wait times, so you can receive prompt medical attention without the long ER queues. Additionally, urgent care is more cost-effective than emergency facilities, so it will save you money on medical expenses.
 
Furthermore, urgent care centers are convenient and accessible. Our facilities have extended hours, including evenings and weekends, and allow walk-ins, providing fast and quality care when you need it the most. Urgent care providers are skilled in wound care and can expertly clean and close your injury with stitches. By choosing Express Health Urgent Care, you can rest assured you'll receive top-quality, comprehensive medical treatment efficiently. Contact us today for more information about our sunburn treatment services or book with us online to schedule an appointment at your earliest convenience. We serve patients from Queens NY, Manhattan NYC, Midwood NYC, Nostrand NYC, Ridgewood NYC, Metropolitan NYC, Staten Island, Greenwich Village NYC, and surrounding areas.