Pre-Employment Physical: What You Need To Know To Pass
Our staff performs pre-employment physicals to prioritize your safety and wellness in the workplace. Our thorough pre-employment screenings evaluate whether you can perform your job responsibilities safely and effectively. Pre-employment physicals are available at Express Health Urgent Care. For more information, contact us today or book an appointment online. We have convenient locations in East Harlem NYC, Metropolitan NYC, and Staten Island NYC.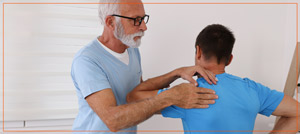 Table of Contents:
What is pre-employment screening?
Why would someone fail a physical?
What's involved in a pre-employment physical?
Should I be worried about a physical?
What is pre-employment screening?

Pre-employment screening is a common step in the hiring process that ensures potential employees meet the necessary health and wellness standards for the job. This comprehensive screening includes a range of medical assessments and evaluations to safeguard the best outcomes for both the employee and the employer.
 
Typically, pre-employment screenings involve a physical examination, various laboratory tests, and a medical history review to identify any health conditions or concerns that could impact job performance or safety. Additionally, a person's ability to perform essential job functions, particularly in physically demanding roles, will also be evaluated. As we know that occupational injuries can be prevented with proper assessments, our team delivers prompt and precise results.
Why would someone fail a physical?

Failing a physical exam can happen for various reasons. It doesn't always mean the person is unhealthy. Some of the most common reasons people fail their pre-employment physical include:
 
● Drug use – A failed drug or alcohol screening can be a disqualifying factor in certain industries, especially for jobs that concern public safety. Common substances tested for include marijuana, cocaine, opioids, amphetamines and steroids.
● New medical concerns – If certain medical concerns or chronic illnesses are discovered during the screening, you may not meet the health requirements for highly physical positions.
● Incomplete medical history – If you fail to disclose accurate medical information during the physical, it can affect the outcome of the screening.
● Recent or unhealed injuries – A recent injury or unresolved medical issue can prevent someone from passing the physical.
 
Express Health Urgent Care understands that a failed physical can be frustrating. Our team of experienced healthcare professionals is ready to assist you by offering guidance to help you improve your general health and wellness. Together, we'll find the right solution to enhance your employability and stay on track for success.
What's involved in a pre-employment physical?

Pre-employment physicals are comprehensive evaluations that assess a potential employee's overall health and ability to perform specific job functions safely and effectively. The screening procedure includes a thorough review of the candidate's medical history, a physical examination, and various medical tests and screenings. Some of the tests often performed as part of a pre-employment physical include:
 
● Vision testing
● Audiometry testing
● Drug and alcohol screenings
● Abdominal check-up
● Heart and lung screenings
● Vital sign checks.
 
During the physical examination, our skilled healthcare professionals will carefully evaluate your mobility and joint health. In addition, the healthcare professional may order further laboratory tests to check for conditions such as infectious diseases, depending on the employer's specific requirements. The pre-employment physical is tailored to the employer's job requirements.
 
Overall, this screening is useful as it determines if the candidate can meet the physical demands of the job without compromising their health and safety. By identifying any potential health concerns, our staff aim to prevent workplace injuries and promote a healthy workforce.
Should I be worried about a physical?

There's no need to worry, as a pre-employment physical is a routine and standard part of the hiring process that aims to improve your well-being and safety in the workplace and protect you from certain occupational risks. It's a simple and non-invasive evaluation conducted by our caring healthcare professionals at Express Health Urgent Care.
 
The purpose of this evaluation is not to judge you but to assess your overall health and determine if you can safely perform the essential job tasks. Our team will review your medical history, check your vital signs, and conduct a comprehensive examination to ensure you are fit for the role.
 
We understand that going through any medical evaluation can be intimidating, but rest assured that our experienced staff will make the process as comfortable as possible. At Express Health Urgent Care, we prioritize your wellness and privacy. Our goal is to ensure that you are healthy and capable of succeeding in your new job. So, there's no need to worry; we're here to support you every step of the way! Contact us today for more information about our sunburn treatment services or book with us online to schedule an appointment at your earliest convenience. We serve patients from Queens NY, Manhattan NYC, Midwood NY, Nostrand NYC, Ridgewood NYC, Metropolitan NYC, Staten Island, Greenwich Village NYC, and surrounding areas.